I don't usually post quizzes...
... but this one fits the blog so perfectly. And I love being associated with a Crusader.
Take the quiz:
"What Monarch Are You?"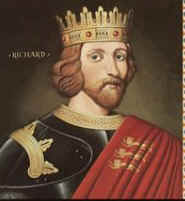 Richard I
You're a great explorer and you're very brave. Sometimes, you're so caught up in exploring and doing your own thing that you neglect the people around you and the things around you. Pay more attention to those parts of your life, like your family and friends. The day will come when you wil need more than just your own spirit and drive.